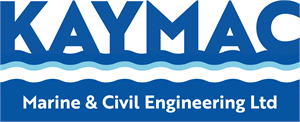 Kaymac Marine & Civil Engineering Ltd
Stand D07
Kaymac Marine and Civil Engineering are experts in delivering difficult in-water construction challenges for Private and Public sector clients Nationwide. We are UK leading specialists in marine Civil engineering, confined space, ancillary floating Plant and commercial diving services. Kaymac was established in 1976 in Swansea, since then the company has an expanded and we now have offices in Swansea, Bristol and Kent operating Nationwide. With over four decades of experience in the industry the Kaymac team provide whole-life benefit to infrastructure through specialist innovative services that enhance the quality of project delivery and provide cost-effective solutions. Our talented in-house engineers and operatives form a team with extensive knowledge and experience that deliver a safe, timely and professional service whilst adding value to our customers' assets. We offer a unique and turnkey solution, everything from initial solution ideas and design to delivery and aftercare. Since the beginning Kaymac have sourced and trialled new technologies and innovative methods to ensure that we have the safest, most productive and cost-effective ways of managing marine civil engineering projects, even highly regulated and time-sensitive ones. Having proven success and demonstrated continuous commitment to being at the forefront of developments in this discipline we can guarantee the best results for clients. We are fully committed to improvement and sustainability, investing in not just the company operations, but in our people too. Our mission is to provide our clients with the best possible cost-effective solution and deliver a professional and quality specialist service, whilst being sustainable and fully committed to safety, health and wellbeing of our employees, supply chain, clients and the environment. What we do: o Civil Engineering in and around water; o Embankment Repairs and Stabilisation o Scour Protection o Timber and Masonry Bridge Repairs and Strengthening o Culvert Repairs and Re-lining o Outfall Pipe Installation and Repairs o Commercial Diving Services o Marine Installations o Confined Space Entry Engineering o Underwater and Confined Space Inspections and Surveys o Ancillary Floating Plant With a proven track record and a highly skilled workforce, we are fully equipped to take on both small and large-scale projects and developments.
Videos
The Llechryd bridge project
Llechryd Bridge Repairs
Llechryd Bridge works
Llechryd Bridge temporary works and bridge repairs solution.
Spey Viaduct, Scotland
Spey Viaduct Bridge Repairs