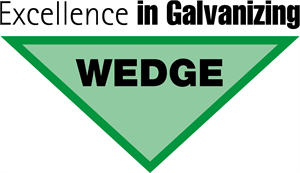 Wedge Group Galvanizing Ltd
Stand D14; Workshop Day T2
Wedge Group Galvanizing Ltd is the largest hot dip galvanizing organisations in the UK with a history dating back over 150 years. With 14 plants strategically placed across the country, they offer a truly national galvanizing service. Hot-dip galvanizing is a highly-effective corrosion prevention treatment that creates long-lasting protection for any type of steelwork. With its winning combination of long-lasting protection, ease of application and sustainability, galvanizing is the finish of choice for many industries across the globe. As a finish, Hot Dip Galvanizing is not only highly effective, but is also extremely eco-friendly. A single, one-off treatment will coat a product both inside and out, providing a finish which can protect steel and keep it maintenance-free for over 70 years, considerably more in the right conditions. Even in the most hostile environment the protection can last two or three decades. This means that the whole life costs of products protected by the hot-dip galvanizing process can be significantly reduced because there is no need for the expense, down-time and inconvenience of repeated on-site maintenance or replacement. Not only does galvanizing lengthen the lifespan of steel, but it is highly energy-efficient throughout its production and whole lifecycle. The galvanizing process uses minimal resources to ensure a relatively low environmental burden, and zinc's non-ferrous properties mean steel can easily be recycled with steel scrap, re-galvanized, removed and reused elsewhere. As a company, Wedge Group Galvanizing is leading the way by introducing a number of highly innovative and sophisticated elements to reduce waste, promote better use of resources, and improve energy efficiency. To improve both fuel efficiency and performance all plants use the most innovative pulse-fired high velocity systems which provide high fuel efficiency, low heat loss, low emission levels and extends the life of the kettle. Another example of how the company, and the wider industry, is cutting energy consumption is the re-use of 'waste' heat created from the furnaces used in the galvanizing process. All of its plants have been fitted with heat exchanger units that transfer the 'waste' heat generated back into the overall process for use within both the pre-flux and de-grease tanks. The company also has rainwater collection and harvesting systems which recycles rainwater back into the galvanizing process. Wedge Group Galvanizing can process anything from a 1.5mm thick plain washer to a 29 metre beam and continues to enhance its galvanizing service with investment in new vehicle fleet, new galvanizing plant and equipment (with its Worksop plant having the biggest bath in the UK), technology enhancements, as well as a commitment to further invest in more sustainable practices.
Videos
Protecting steel from corrosion by Hot Dip Galvanizing
There are many benefits for using galvanizing to protect steel; its durability, toughness and the metallurgical bond that develops between the steel and zinc. Whether an attractive, artfully designed sculpture, architecturally exposed steel element, bridge, bus station, or other infrastructure element, galvanized steel offers design flexibility, and an attractive, natural gray finish. With up to four per cent of the world's GDP lost through corrosion each year, both life-cycle costs and waste are key considerations in any modern construction project. And Galvanizing is highly sustainable and produces minimal waste. The long-term durability provided by galvanizing is achieved at relatively low environmental burden in terms of energy and galvanized steel is also completely recyclable.