Mabey Bridge
Stand D09; Workshop Day T10
Mabey Bridge is a leading international provider of high-quality modular steel bridging solutions. We specialise in rapid-build, pre-engineered modular steel bridges to enable accelerated bridge construction and improve connectivity in urban and rural areas. We also deliver bridging solutions for the transport, construction, oil and gas, and mining sectors, as well as for specialist military applications, humanitarian emergencies and disaster relief. Mabey Bridge, (an Acrow Group company,) is based in Gloucestershire, UK and has supplied modular bridging solutions to over 150 countries worldwide. For more information, please visit www.mabeybridge.com
Products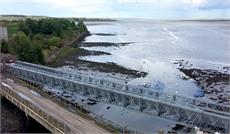 Compact 200™ Bridge (C200™)
The Compact 200™ (C200™) system is Mabey's most widely used modular bridging product and is available for both permanent and temporary applications. With a heritage stretching back over 70 years to the original Bailey Bridge system, the system's extensive use worldwide pays testament to its versatility. The compact bridge system uses standard, interchangeable steel components to provide robust, rapidly deployed and erected solutions for; permanent bridges, temporary bridges, rural bridges, access bridges, footbridges and emergency and contingency bridging applications. Emergency and contingency bridge stocks, held in country, allow for immediate availability when needed. The C200™ can carry up to two lanes of traffic, with options for internal and external foot walks, and can be configured as a single or multiple span compact bridge. Multi-span solutions are supported on intermediate piers, meaning that there is no limitation to the length the C200™ can bridge; this makes it a versatile solution suited to a wide range of applications. Floating bridge solutions, using pontoon systems and bespoke connections, have also been achieved, as well as jetty applications for ferry and barge access. The C200™ can also be adapted to serve as pipe or utility support bridges suited to carrying, for example, oil, water, gas pipes, conveyors and other services and is the most adaptable and versatile solution in the Mabey range. For more information on how the C200™ suits your application, please speak to our Expert.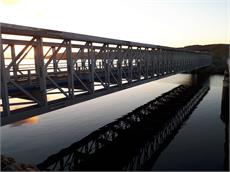 Our Delta Bridges provide a proprietary pre-fabricated modular bridging system suited for long-spanning permanent applications on main highways or in rural areas. It uses standardised, interchangeable steel components with full highway loading capability to provide a permanent, lightweight, steel bridging solution which can be configured for clear spans of up to 100 metres. It can also be supplied in multiple spans, supported on intermediate piers, meaning that there is no limitation to the length it can bridge. Combining the best of off-site fabrication with high speed construction and rapid installation, our Delta Bridges offer significant advantages over more traditional construction techniques which involve major site work. The versatility and robustness of its design means that it can be easily assembled and dismantled, making it equally suited to long-term temporary bridge applications. Mabey can supply a solution to suit your particular requirements and we are able to accommodate any special load requirements as well as site specific topography, extremes of temperature, high wind loads, and seismic requirements. For more information on our Delta Bridges and how we can help you, speak to our Expert
Videos
We are Mabey Bridge, An Acrow Company
Mabey Bridge is a leading international provider of high-quality modular steel bridging solutions. We specialise in rapid-build, pre-engineered modular steel bridges to enable accelerated bridge construction and improve connectivity in urban and rural areas. We also deliver bridging solutions for the transport, construction, oil and gas, and mining sectors, as well as for specialist military applications, humanitarian emergencies and disaster relief. Mabey Bridge, (an Acrow Group company,) is based in Gloucestershire, UK and has supplied modular bridging solutions to over 150 countries worldwide. For more information, please visit www.mabeybridge.com
Compact 200™ (C200™) Modular Bridge - Applications
Compact 200™ (C200™) animation showing some of the applications of our most versatile modular bridge.