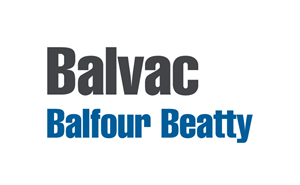 Balvac Ltd
Stand B04; Workshop Day T4
As a trusted expert, Balvac sustainably extends the life of our nation's infrastructure. We deliver innovative structural repair, strengthening, protection and maintenance solutions to return our customers assets to full capacity and extend their working life. We operate in Transport, Energy & Power sectors, but predominantly in Highway Infrastructure,. We deliver highway infrastructure services to National Highways and local authorities, including structural concrete repair, corrosion protection, bridge strengthening, bearing replacement and concrete carriageway rehabilitation. We take these and other specialist services into various other sectors, including rail, marine, coastal, power, industrial and commercial. Balvac also undertakes structural health monitoring, diagnostic testing and survey services, noise vibration, air quality monitoring and pile testing. We focus on the needs of our customers to deliver technically excellent and innovative repair and maintenance solutions with our own highly skilled resources and dedicated supply chain on projects typically ranging from £100k to £10M.
Videos
Balvac - the structural repair specialists
Balvac Ltd - Experts in structural repair, strengthening & protection.