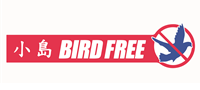 Bird Free Ltd
Stand F06
BIRD FREE™ 21st century bird proofing for bridges : Keeping your bridges Bird Free from day one. Our award-winning Bird Free™ is the only bird repellent gel authorised* for use in the UK by the Health & Safety Executive (*authorisation based on proven efficacy). Impervious to all weather conditions, Bird Free™ will remain effective for seven years or more without maintenance. Bird Free™ is a powerful tool for controlling birds. It is used on bridges either as a preventive measure, or to eliminate existing pigeon infestations. Bird control professionals rely on Bird Free™ to resolve long-standing pigeon problems that their clients have been unable to solve by traditional methods.
Videos
Bird Free prevents nesting on bridges
BIRD FREE™ prevents nesting on four bridges on the A14:
Craigavon Bridge Case Study
Northern Ireland Department for Infrastructure solves health & safety issues on Craigavon Bridge with BIRD FREE™.
Bird Free eliminates health hazard at hospital
BIRD FREE™ prevents pigeons from nesting at hospital after spikes had failed.
Bird Free is invisible from below
BIRD FREE™ is invisible from below.
February 2022: No fouling on cars after pigeons abandon car park
No fouling on cars after pigeons abandon car park: